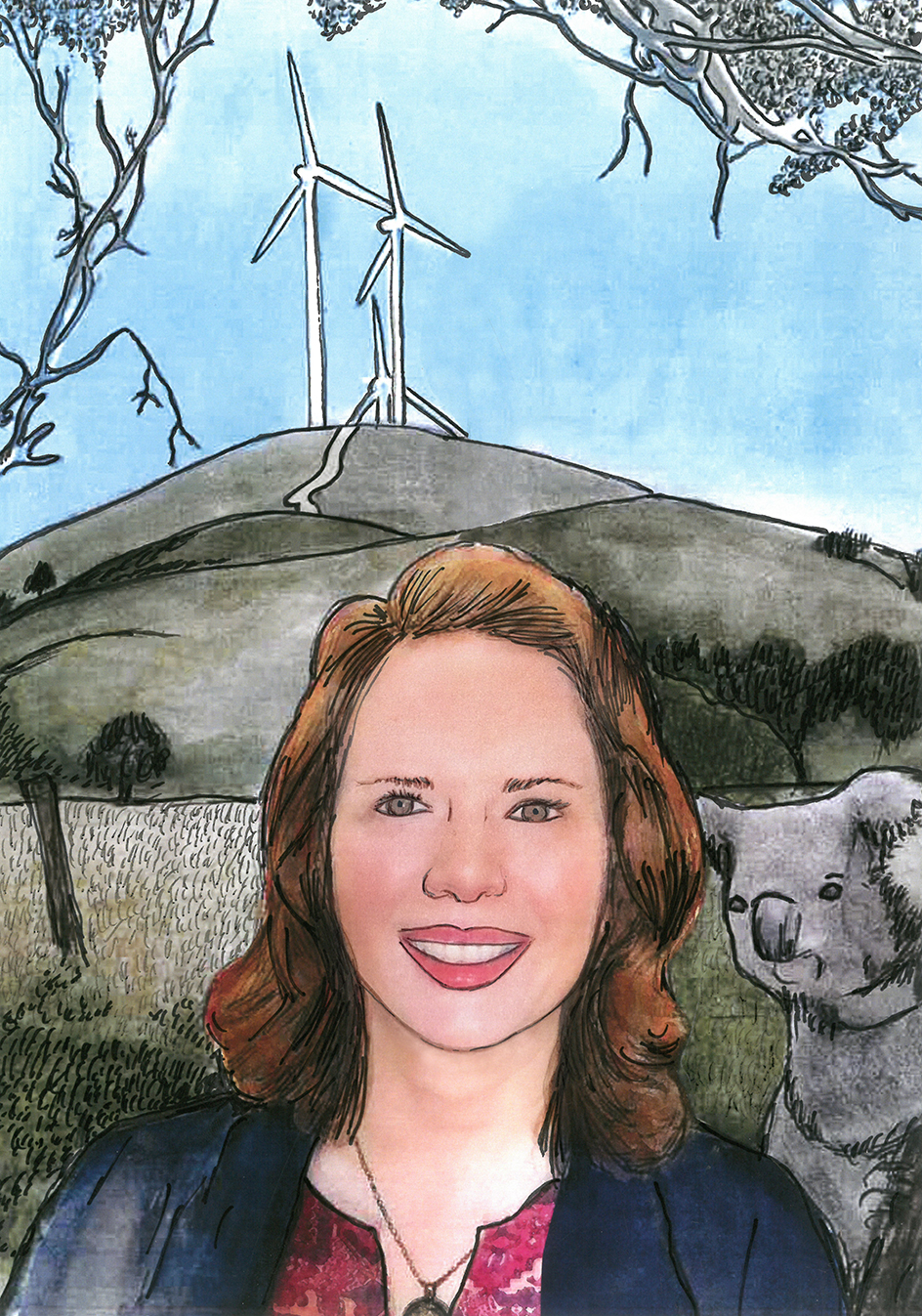 What did I need to learn to do this job?
I really liked English, physics and maths at school and decided to study science at university. During the ten years I spent at university, I chose subjects I enjoyed the most. I got better marks in chemistry than physics, but chose to continue my studies in physics because I liked it more.
I believe the secret to studying anything is persistence. I still do some lecturing at university and I love working with students and seeing when a concept they had been struggling with finally ''clicked'' for them. You don't have to be the best student to have a really interesting career. Some of the best engineers I have worked with didn't get the top marks at university, but they are really good at coming up with practical solutions to problems.
Katrina

Swalwell,

44, Australia.
Principal in the Power Generation team at Aurecon
A lifelong
fascination

with windmills
I have had a lifelong fascination with wind power. I'm Australian and when I was five my family went on a four-month camping trip around the country. My mother tells me I spent a large part of it excitedly watching out for farm windmills and learning how they were used to pump water.
Later, when I was eight, I was told at school about the environmental problems the world was facing and that it had to be our generation who solved them. I stomped around the playground afterwards, furious that adults were wasting time telling children about these problems, rather than working on solutions like wind energy.
Growing up, I wanted a job that would have a positive impact on the world. And now here I am, designing wind farms. 
In my work, I have to consider complex combinations, such as the placement of turbines to ensure they produce the most electricity and to minimise their potential impact on farming and nature. I care a lot about nature and animals. My mother and aunt run wildlife shelters, where they care for wild birds, possums and the occasional koala! Wombats are my favourite animal.
Another part of my job is helping decide what to do with old wind turbines. Like all machines, they wear out over time. Some of the oldest wind farms in Australia are now reaching the end of their life. We aim to recycle used parts and reuse the sites, generally constructing new wind turbines on them.
Nobody builds a wind farm on their own. It needs people who understand the electricity business, finance, legal and environmental issues, as well as local communities, and construction and maintenance companies. This means I work with all kinds of people, which means I never get bored!
Wind turbines are expensive to build; a modern one costs over €6 million. To avoid wasting money, lots of time is spent negotiating where and how to build a wind farm. If the electricity produced ends up being too expensive, it can't compete with other sources of power.
In these negotiations, you never get everything you want, but everyone has an interest in the project being successful. It is important to always treat everyone with respect even if you don't necessarily agree with them – the chances are you will be working with them again on another project in the future.
I like to see girls getting involved in the sector, and in STEM (science, technology, engineering and mathematics) more generally. In our company, I lead discussions on how unconscious attitudes towards women may discourage them from working in our field, and how to overcome such attitudes. People still often think that only men can be engineers!
Ultimately, I encourage girls to study science, maths and physics because they are interesting subjects that can lead to fascinating jobs with a real impact on society.