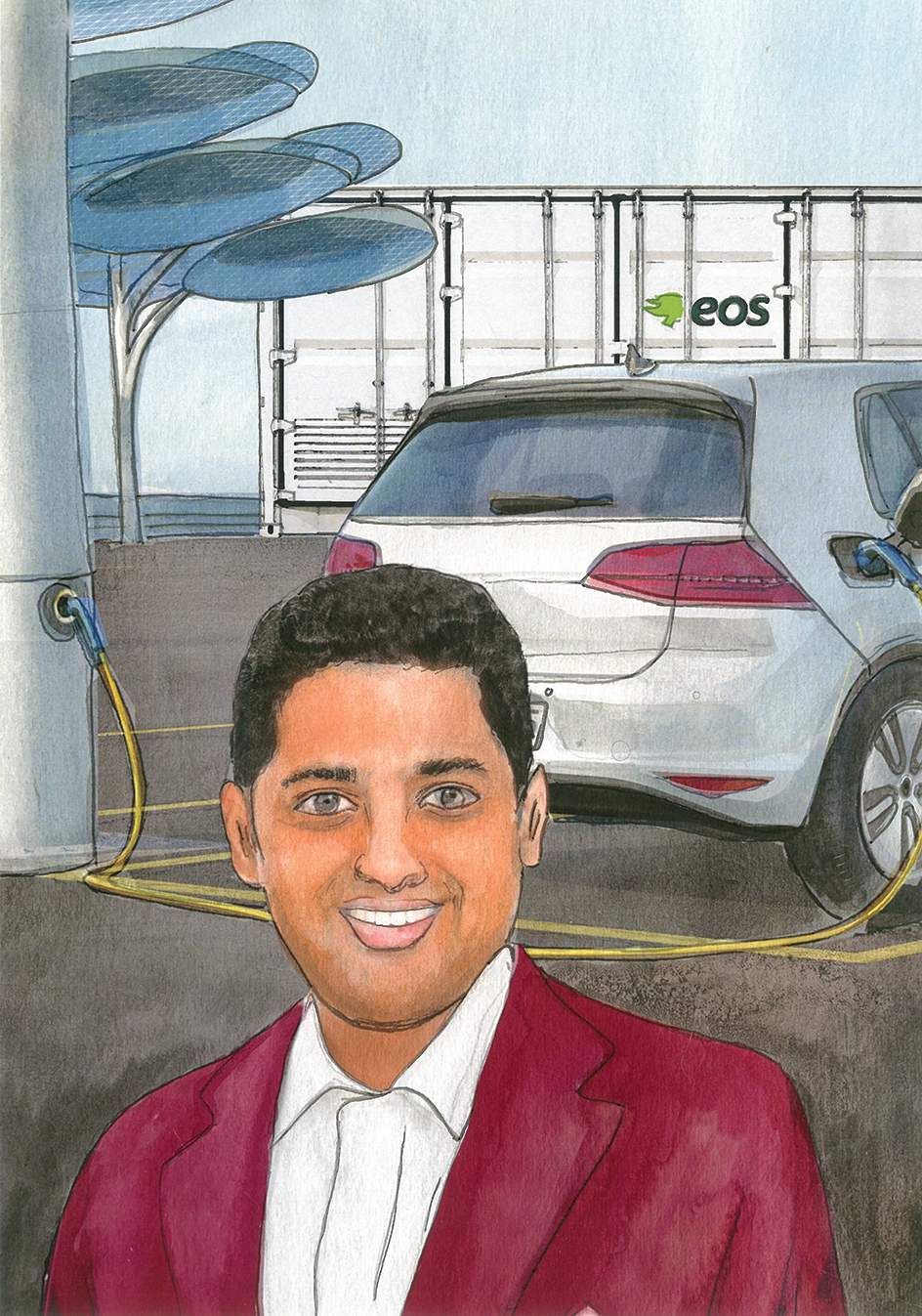 What did I need to learn to do this job?
When I was at school in India, maths was my favourite subject because you knew you were either right or wrong.
After school I went to three universities. First in India to study mechanical engineering. I then moved to the United States where I studied chemistry, engineering, and then business. In total, I spent nine years at university. 
In my job, you need to be very organised since you juggle many things at the same time and be passionate about what you do.
Balki

Iyer,

46, United States
Chief Commercial Officer at Eos Energy Storage
Saving the planet can be good
business
I work for a company that brings clean, green, renewable energy to the world. I always dreamt
of having a job that could make a positive impact, and I love being able to show people and companies that they can make money while saving the planet for many generations to come, with projects that are clean and green.
I don't actually build solar panels or wind turbines, but I help sell my company's products by explaining to people why, in the long term, it is better for them and for the climate to invest money in renewables, rather than in fossil fuels. 
When people buy a house, for example, they pay for it over many years. It is important to show our customers that over the long-term buying renewables offers much more value than spending money on oil or coal.
I like meeting with our customers. I like learning about the energy problems they have and demonstrating how technology can solve them.
The other part of my job that I love is travelling. I've been lucky enough to visit 40 countries. I was born and grew up in India, spent some time in France, and today I live in the United States.
Learning about new cultures is super interesting and perhaps that is why I married my wife, who is Ukrainian-American. I speak four languages, English, some Russian, plus Tamil and Hindi, which are spoken in India. My wife speaks Ukrainian – we are very multilingual in our house!
I'm also very proud that my children care about the planet. My 13-year-old daughter is an environmental activist, and my seven-year-old daughter is a vegetarian. My wife and I try to teach them about the importance of protecting the climate. I drive an electric car, which runs mostly on electricity from the solar panels on the roof of our house. 
At university, I had a professor who taught us about solar energy and made us write a report about how much potential it has. That is what got me interested in renewables and helped me become the person I am today. I'm very glad I met him.